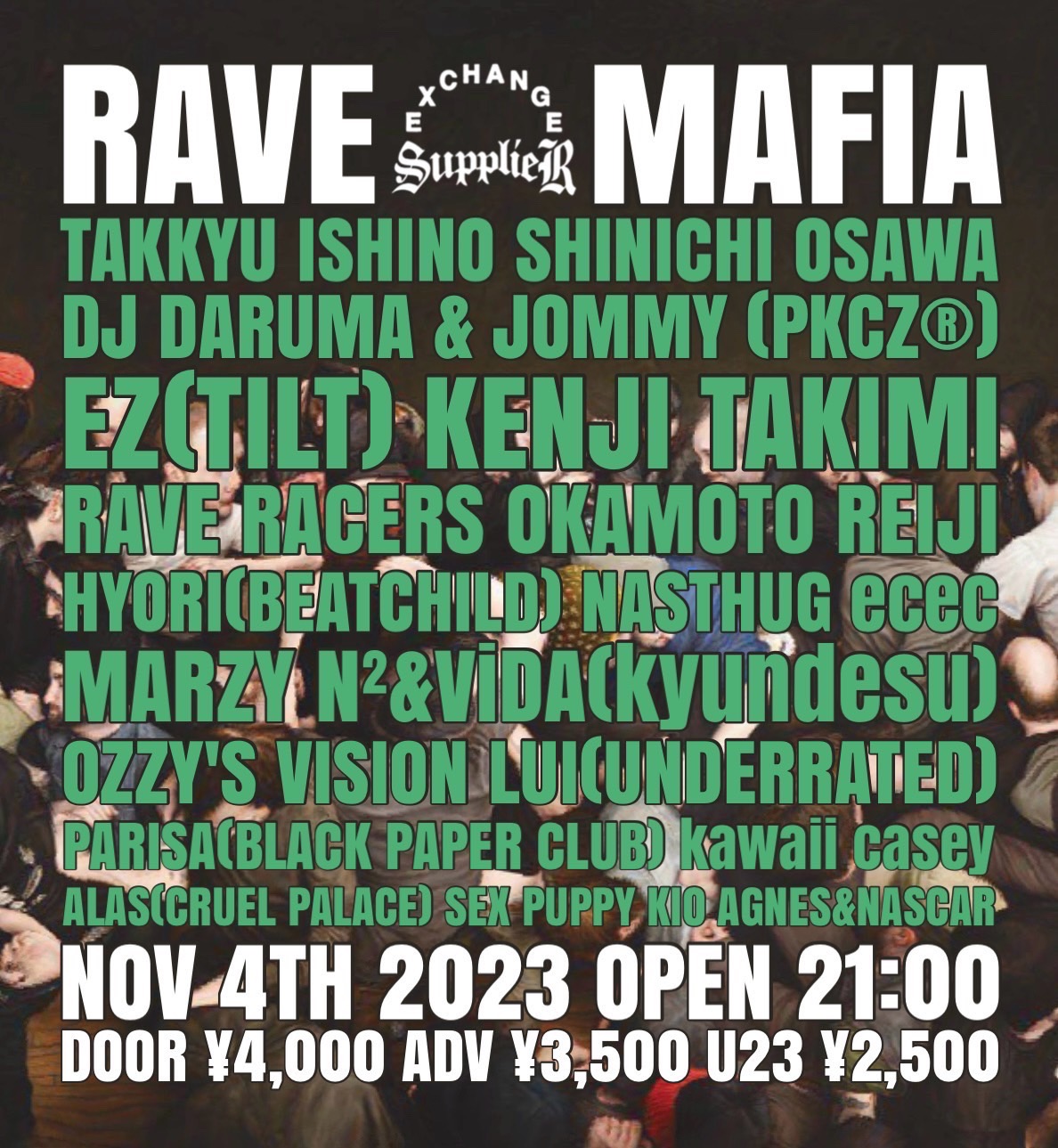 2023.11.04 SAT
RAVE MAFIA
最終情報解禁!!
石野卓球と大沢伸一が追加ラインナップ!!
RAVE MAFIAはファッションブランド @supplier_official , @exchange.program そして、東京の第一線で活躍する隙のないラインナップであなたをお迎えします。
SUPPLIER×EXCHANGE PROGRAM
Exchange Program comes together with Tokyo brand Supplier to create a capsule collection in reference to each of the brand's core ethos. Capturing the two worlds far apart but yet seemingly so close to one another.
Supplier brings a sophisticated chaos with restless youth while Exchange Program brings bold graphics through color and unique placement creating something… Beautiful. Hence the title of the collection 'SUPPLIER OF CHAOS IN EXCHANGE FOR SOMETHING BEAUTIFUL'
Together we bring a fresh taste to beauty within our chaos. Through bold and effortless designs that entice more of a feeling of chaos within rather than its actual beautiful appearance of the collection.
OPEN

21:00

PRICE

DOOR ¥4,000 ADV ¥3,500(優先入場付き)
U23 ¥2,500 (エントランスにてIDをご提示で割引)
整列開始:20:00

GENRE

TECHNO / TRANCE
Artist
B4 Z HALL

〈TECHNO / HOUSE〉
石野卓球 / 大沢伸一 / DJ DARUMA & JOMMY (PKCZ ®) / KENJI TAKIMI / EZ / オカモトレイジ(OKAMOTO'S)

B3 RING

〈HIPHOP〉
Hyori(beatchild) / MARZY / Nasthug / N2&ViDA(kyundesu)

B2 BOX

〈RAVE〉
RAVE RACERS / OZZY'S VISION / Lui(UNDERRATED) / ecec / kawaii casey(sabukaru)

B2 R BAR

〈ALLMIX〉
PARISA / ALAS(Cruel Palace) / SEXPUPPY(Cruel Palace) / Agnes Kruel & Nascar / kio