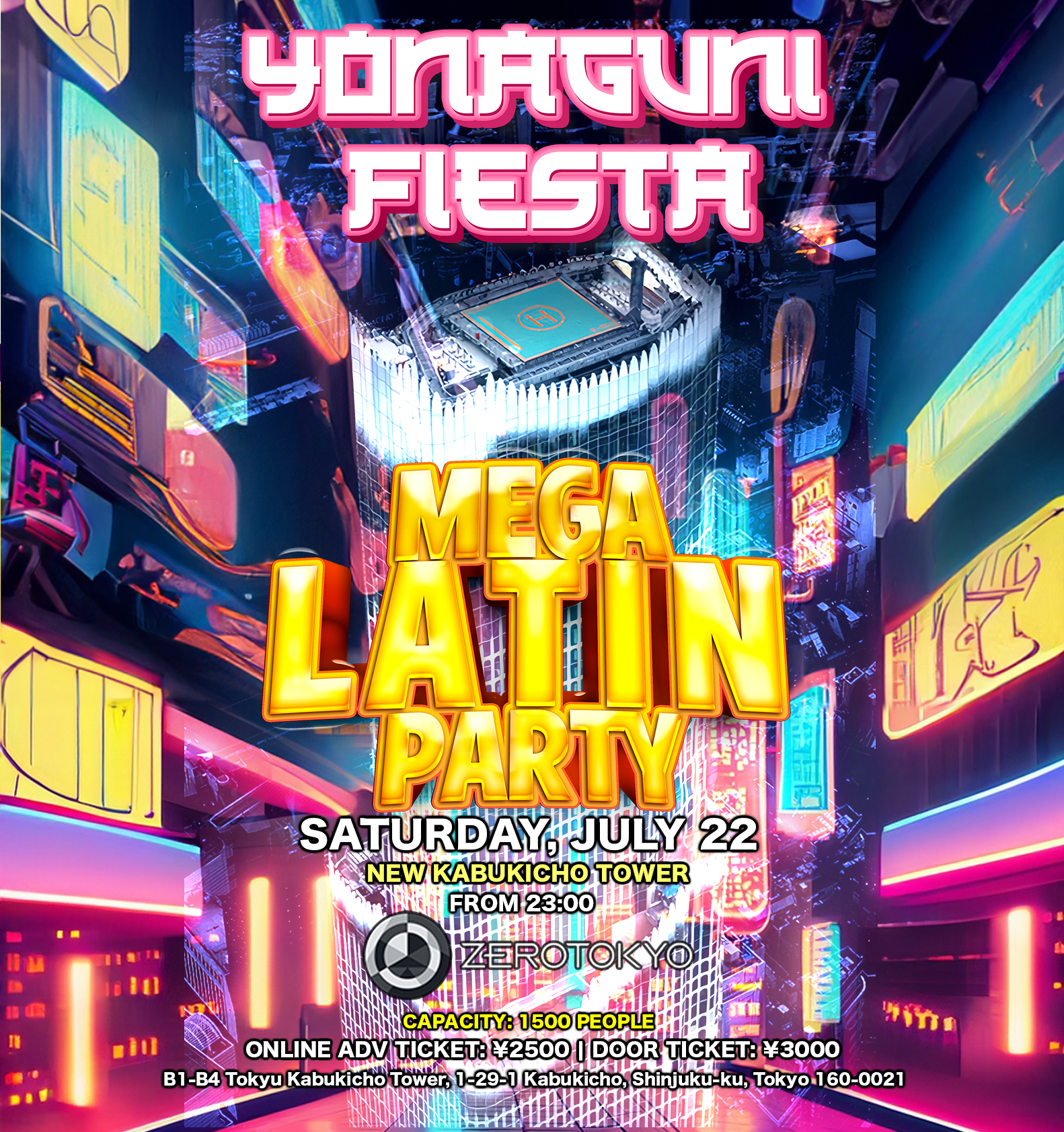 2023.07.22 SAT
YONAGUNI FIESTA
Yonaguni Fiestaとは?
Yonaguni Fiesta (ヨナグニ・フェスタ) は日本最大のラテンパーティーである。Reggaeton(レゲトン)を中心に、Bachata, Salsa, Electro Latino, Brazilian Funk, Dembow, Regional Mexican と Latin Tech House をミックスし、忘れられない一夜を演出する。
Yonaguni Fiestaは、東京をフラッグシップ・シティとし、現在、日本(大阪、福岡、沖縄)、台湾、そして間もなく韓国でも活動している。
ラテン・カルチャーへの愛と情熱が最も美しく表現される超エネルギッシュなパーティーを祝うことで、Yonaguni Fiestaは常に成長し、ラテン・ミュージックを愛する世界中の熱狂的なパーティーファンを魅了している。
Yonaguni Fiestaのファミリーの一員になろう!
OPEN

23:00

PRICE

DOOR:¥3,000 ADV:¥2,500

GENRE

ALL MIX / Reggaeton
Artist
B4 Z HALL

<REGGAETON / ALL MIX>

Reggaeton newest and classic hits with all kind of Latin music genres, such as Bachata, Salsa, Electro Latino, Regional Mexican and many more.

B3 RING

<BACHATA / SALSA / BRAZILIAN FUNK/ DEMBOW>

Grab your partner to dance all night with our Bachata-Merengue-Salsa mix! Including some crazy Brazilian Funk and Dominican Dembow hits.

B2 BOX

<LATIN TECH HOUSE / ELECTRO LATINO>

Surround yourself with the most epic Reggaeton tracks transformed into tech house sounds and sporadic pieces of high-energy electro latino hits.

B2 R BAR

<OLD SCHOOL REGGAETON / REGIONAL MEXICAN>

Hydrate yourself while listening to the best Reggaeton classics and the recently top-charted Regional Mexican music.