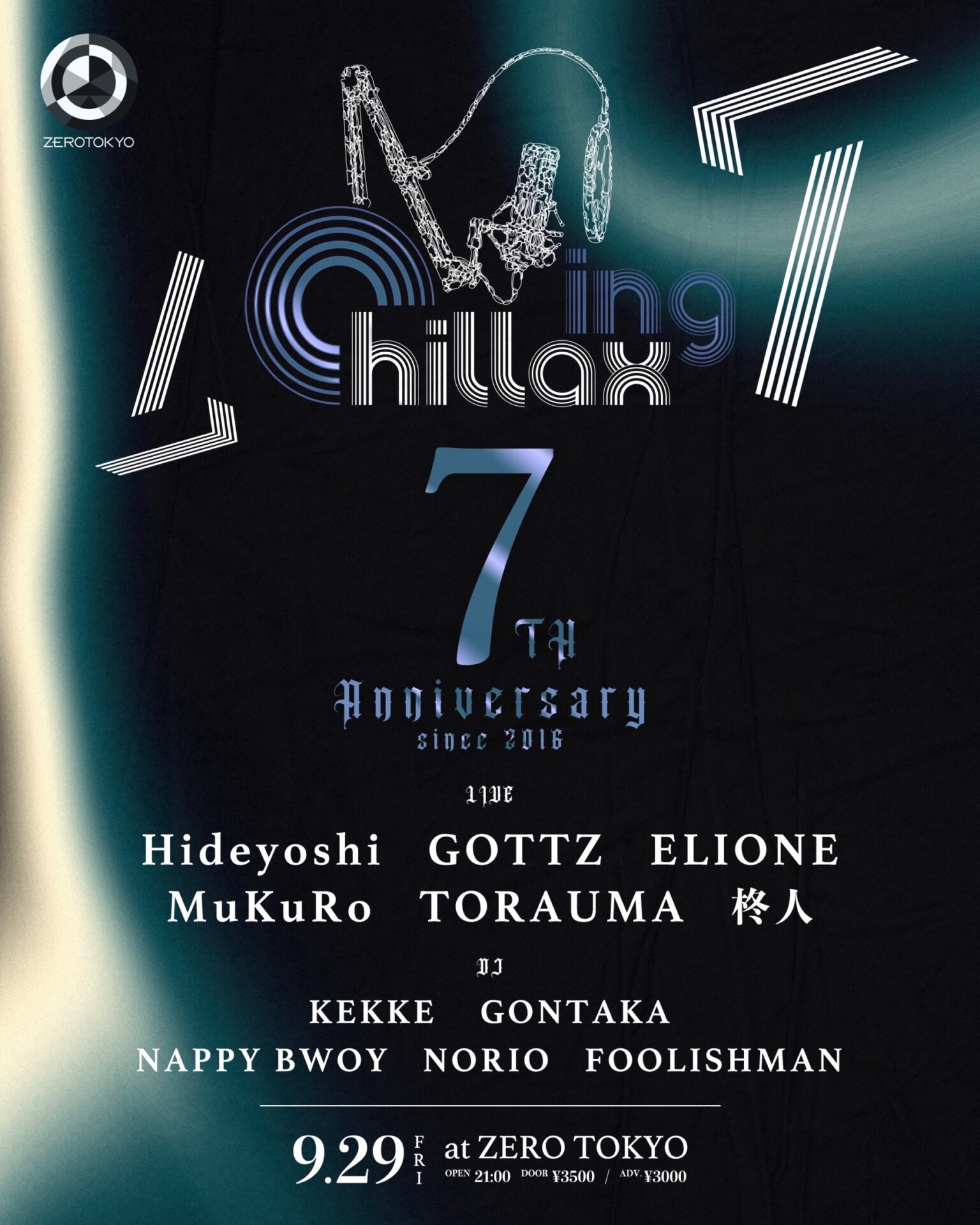 2023.09.29 FRI
chillaxing 〜7th anniversary〜
A group of gorgeous artists appeared on the 7th anniversary of chillaxing, a music event that is arguably the leading force in the Japanese hip-hop scene!
Launched in 2016, the event has hooked up top artists who are indispensable to the modern Japanese hip-hop scene, as well as newcomers with high expectations. Now, it is no exaggeration to say that chillaxing has grown to become a leading music event in the Japanese hip-hop scene, and will celebrate its 7th anniversary.
Live acts include Hideyoshi, frontman of Tokyo Young Vision, MUKURO, a core member of the "604" crew that includes MAVEL, Spit Qi, and HANG, TORAUMA, a member of the Final Weapon Company (FWC), ELIONE, a rapper and producer, and MIKE, a member of the "MUSIC" crew. ELIONE, who is a rapper as well as a producer, and Gottz, who released "Still Life feat. NORIKIYO" after KANDYTOWN's performance and has been attracting attention!
DJs include DJ KEKKE, who won the DJ of the Year 2022 award on block.fm's popular hip-hop program "INSIDE OUT," chillaxing organizer and designer GONTAKA, NAPPY BWOY, Tokyo Young Vision member DJ NORIO, and FOOLISHMAN, OFFICIAL DJ of rapper Only U, will perform!
We hope you will enjoy this anniversary event with its splendid lineup!
OPEN

21:00

PRICE

DOOR ¥3,500- ADV ¥3,000-

GENRE

HIPHOP
Artist
B4 Z HALL

LIVE:HIDEYOSHI / MUKURO / TORAUMA / 柊人 / ELIONE / GOTTZ

DJ:KEKKE / GONTAKA / NAPPY BWOY / DJ NORIO / FOOLISHMAN

B3 RING

〈HIPHOP〉
LIVE:Sullivan / NSG / Godbaby

DJ:HAMMER / KAZUKI / Shunchill / KAKERU / はにわ / SHOTA / Angie / shosho

B2 BOX

〈ALL MIX〉
Sion (wisdom paradox) / HATSUYUKI / Buckroll / TAKENAKAN / Nana-KO / VANTES / kiyo / KOUKI

B2 R BAR

〈R&B / DISCO〉
ROVA / SHINTARO / TOMI-NORI / KEI / KANT / HIKARU☆ / ASANUMA / YUME